IT Services for Knoxville, Sevierville, and Surrounding Counties Businesses:
Are You Frustrated With The Lack Of Responsiveness And Slow Service From Your Current IT Services Company?
We free up valuable time spent on frustrating IT problems and deliver technology tools to help your business or organization do what it does best. And unlike other computer guys, when you need help, we start resolving your problem, in 20 minutes or less during normal business hours.
Give us a call or schedule a Free 10 minute Call, and lets talk about how we can make your business more productive by using an affordable, friendly, and responsive outsourced IT service.
Call us today at 865-909-7606
Call Us Today At 865-909-7606
3 Reasons to Trust CD Technology
to Support Your Computer Network
Don't just take our word for it. . .
A Message from Our CEO:
At CD Technology, we believe in earning your business every day. That is the same commitment I have made to each of our clients over the past 25 years. I know running a small business is a complicated task. I have struggled with all of the same things you have, taxes, regulations, staff, marketing, technology, and so much more. With so much going on, it can be hard to focus on what matters most, your customer. Don't let technology bog your business down. We take on ALL of the worry of cyber threats and eliminate costly down time.
Thomas Hill Jr.
President
Not Ready To Call Us Just Yet?
If so, we would at least like to offer a FREE REPORT. Even if you aren't ready to make a change right now, this report will give you an opportunity to learn the 21 questions you should ask your I.T. services company or consultant BEFORE hiring them for I.T. support.
Simply fill out this form to receive the free report.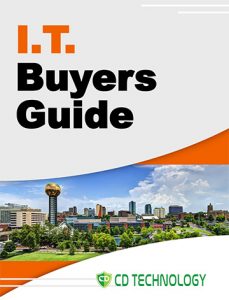 Download Your
Free Copy Now